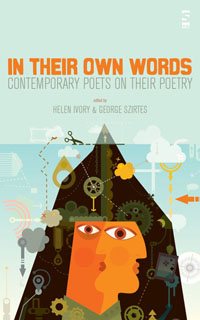 I first had the idea for this anthology about a year ago  As a poet and a teacher of creative writing, I have always loved hearing writers talk about their writing; about the differences and similarity of process and craft.  I mentioned it to George Szirtes and he said he would be interested in working on it with me.  I had a meeting with Chris Emery at Salt the day after and abracadabra, we had the makings of an anthology. I can't believe it has all been turned-around so quickly – I was expecting, if anything for it to come into publication next year.
As ever, it was a joy to work with George on this project.  It was remarkably easy to collate. The book is by no means comprehensive and not everybody we asked took part, as we say in the Introduction.  Not everybody likes writing about about their own writing, and some didn't have time to turn the piece around to meet the deadline. As we say in the blurb 'This book is not a retrospective but a representation of poetry as a living breathing, evolving art.'  It is a celebration of variousness; an attempt at mapping poetry in the UK today and we are grateful to everybody who contributed to it and made it such immensely exciting  and enjoyable read. We are delighted with it.
Here is the link to the book on the Salt website for more information about our 56 wonderful contributors.